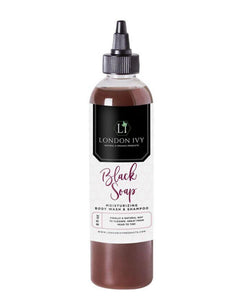 Effective from head to toe! Leave your hair and skin clean, without stripping away moisture!
Made with Natural and Organic Ingredients Including: Pure African Black Soap, Coconut Oil, Plantain & Peppermint
This Shea butter and plantain-enriched soap lightly lathers and cleans naturally. Helps to relieve scalp irritations and dandruff.  Recognized for its natural properties, African Black Soap has been known for centuries to help to soothe acne, rosacea, eczema, and psoriasis. A little goes a very long way with this product. The precision applicator keeps waste at bay.
* A light natural separation may occur with this product, shake gently prior to use. This will not effect the quality of the product. 
Key Ingredients:


Distilled Water / Aqua•
 Essential Oil Blend * [For External Use Only]

* USDA Certified Organic | • 100% Natural/Natural Origin |  | [keep out of eyes]


Directions: 
Shampoo: Apply to soaking wet hair starting at the scalp building up a slight lather, smoothing through length of hair in one direction. Rinse and repeat on scalp if needed.  
Body Wash:  Wet skin. Apply a small amount to wash cloth and use. Rinse.
Face Wash: Wet face and massage a small amount onto face (avoid contact with eyes). Rinse well.