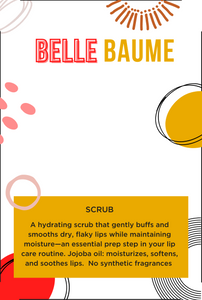 A hydrating scrub that gently buffs and smooths dry, flaky lips while maintaining moisture—an essential prep step in your lip care routine. Jojoba oil: moisturizes, softens, and soothes lips. No synthetic fragrances.
Ingredients:
 Organic Sugar, Jojoba oil, Vitamin E, Castor oil and Peppermint
Directions:
-Applying twice a week will be enough to gently exfoliate your lips.
-Massage a small amount onto lips with a clean and dry finger. Then rinse with a damp washcloth, leaving only the nourishing base.
Check Belle Baume out on Instagram