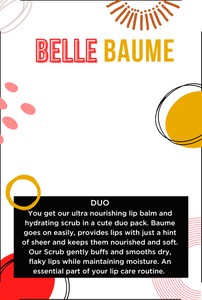 In the duo you get our ultra nourishing lip balm and hydrating scrub in a cute duo pack. Baume goes on easily, provides lips with just a hint of sheer and keeps them nourished and soft. Our Scrub gently buffs and smooths dry, flaky lips while maintaining moisture. An essential part of your lip care routine.
Baume Ingredients:
Castor oil, Safflower oil, Extra Virgin Olive oil, Beeswax, Olive Squalane, Jojoba oil, Vitamin E, Peppermint and Grapefruit
Directions:
With clean dry hands apply to the lips throughout the day and overnight for round-the-clock benefits.
Scrub Ingredients:
Organic Sugar, Jojoba oil, Vitamin E, Castor oil and Peppermint
Directions:
-Applying twice a week will be enough to gently exfoliate your lips.
-Massage a small amount onto lips with a clean and dry finger. Then rinse with a damp washcloth, leaving only the nourishing base
Check Belle Baume out on Instagram